Staying Engaged 
In an effort to make your day a little brighter, here are activity ideas to do at home. We hope these activities will stimulate discussion, encourage reminiscing, get you moving, or simply bring joy. From links to concerts, museum tours or live dance classes; to directions for craft projects, or conversation prompts, we hope to add some fun to your day.
Engagement Types:
Click on any of the categories below to explore more!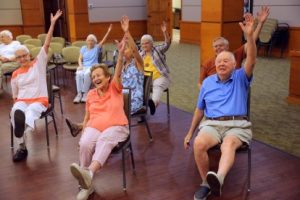 Seated Line Dance 
Seated Line Dancing is a lively and inclusive form of physical activity designed to keep older adults moving and having fun while seated comfortably in a chair. Check out a modified version of traditional line dancing here.
Music
Name That Tune
Name that tune is always a fun game to play with individuals with dementia because it involves familiar music that soothes them and stirs their recollection. YouTube features a variety of videos caregivers can use to play this popular game. View this video for an example.
Concerts in Motion
Invite your loved one with dementia to a weekly musical concert right in your own home. Concerts in Motion offers free Virtual Visiting Series Concerts. All concerts are accessible by phone or internet. Click here to learn more and sign up.
Fun Songs to Sing
Songs & Smiles is a nonprofit offering Fun Songs to Sing for with those living with dementia. The singalong video includes lyrics so the whole family can join in on the fun.
Personalized Playlist
BBC Music Memories provides an easy method for creating/saving a music playlist to Spotify. Or even easier, M4D Radio (Music for Dementia) offers era-specific stations available 24 hours a day, 365 days a year.
I

n the Mood for Music from Your Past?

 
Check out the Nostalgia Machine and pick a year from the past to listen to music from your high school days, college parties, or your first love. 
The Choral Society of Durham
The Choral Society of Durham shared with us their Community Outreach Concert, beautifully presented with the "hope that the music will be one small act of building bridges, linking us together arm in arm as we strive to shape the world into a more just, caring and peaceful place." Enjoy a variety of songs including the spiritual, "There is a Balm in Gilead," and "West Side Story's" favorite love song, "Somewhere."
Durham Medical Orchestra
Duke's Verena Mösenbichler-Bryant leads health care professionals and students—from their homes across Durham County—in a performance of a new piece by Durham composer Steven Bryant.
Music for Seniors
Music for Seniors connects Nashville-area musicians with older adults through live and interactive music programs designed to engage, entertain and educate.
Come Sing with Us!
Click here to see former performances. Enjoy and watch them as often as you would like.
Exercising Your Body and Mind
Fun and Moving
Daily exercise plays a pivotal role in enhancing the well-being of individuals with dementia. Fun and Moving is an on-demand rehab and basic movement online platform. Caregivers of individuals with dementia can stream exercise videos on their TV or computer with a subscription. Check out some of their memory care routines here.
Hand Massages
Caregivers often seek meaningful ways to engage with their loved ones with dementia. Hand massages offer a tangible way to provide comfort, reduce anxiety, and foster connection in a world where words can sometimes fade. Here is a video of an easy 5 Minute Therapeutic Hand Massage for Seniors.
Chair Stretches
Daily gentle stretches can be beneficial to our safety and comfort as we age. Approach each stretch with patience and adapt them based on your individual abilities and limitations. Here is video of simple Chair Stretches accompanied by relaxing music.
Meditation and Dementia
Meditation can be a helpful tool to help reduce stress, relax the mind, and improve mood. Check out this 10-minute Guided Meditation Activity for People with Mild to Moderate dementia.
Gentle Walking Exercises
Gentle walking exercises and good music is an enjoyable activitiy individuals with dementia will love. This 15-minute workout with suggested movements and familiar music is sure to get your loved one moving!
Fine Motor Skills Exercises
The effects of dementia can impact fine motor skills such as buttoning or unbuttoning a shirt, eating with utensils, and writing. Individuals with mild to moderate dementia can try daily hand exercises to help maintain those skills. View this video here for examples.
Stretching 
Stretches help improve balance and coordination which reduce the risk of injury. Help your loved one start their day with some simple stretches before getting out of bed. View the 7-minute video here.
Laughter Yoga!
It has often been said that "laughter is the best medicine". Laughter can help individuals with dementia and their care partners, reduce anxiety and tension, and produce positive feelings. Engaging in Laughter Yoga is one way get those daily giggles in. You can view an instructional 10-minute video here .
Chair Exercises with music from the 70's
Upbeat music combined with physical exercise provides positive social and emotional benefits for individuals with dementia. Check out this fun 10-minute seated chair exercise routine with music from the 70's here.
Silver Sneakers
Check out this 5-minute exercise from Silver Sneakers that is both fun and for good for your brain! Silver Sneakers is a great resource for finding easy exercises you can do at home or at select gyms and senior centers in your community.
Fall Prevention Exercises
Verywell Health features this article on the common causes of falling with dementia and Eldercare Gym Senior Fitness provides exercise videos for improved balance on their Youtube page here.
Yoga at Home
Follow along with JJ Gormley, Certified Yoga Instructor with The Center for Volunteer Caregiving as she guides you through gentle seated chair yoga. Choose between various prerecorded videos ranging from 15-30 mins here.
Ideas for Exercise and Physical Activities
"Exercise is an excellent, non-drug way to improve well-being and reduce challenging behaviors in seniors with Alzheimer's or dementia."
This article
has 12 ideas for exercise and ways to inspire participation.
Tai Chi to Improve Balance and Prevent Falls
If you've never tried Tai Chi, start with this short video. The instructor will guide you through gentle and relaxing movements with a beautiful body of water in the background.
Virtual Movement for the Mind
Check out these exercise videos from Alzheimer's Support, a dementia organization in England. The videos range from very gentle movement to more active exercises.
Go4Life
Go4Life from the National Institute on Aging at NIH, offers workout videos to help you fit exercise and physical activity into your daily life. Great options during the pandemic or anytime!
Transportation and Travel
Virtual Vacation
Take a Virtual Vacation to Paris with a meditative audio tour. Guided audio tours can transport listeners to inspiring destinations even when you can't be there in person. Caregivers can use guided meditations to improve mood and reduce stress for individuals with dementia. Click here to listen to Virtual Vacations via Podcast.
Virtual Park Tours
Google delivers the splendor of nature within U.S National Parks through interactive virtual tours. Experience stunning views and gorgeous landscapes in Alaska, Hawaii, New Mexico, and Florida, by clicking here.
All Aboard!
Experience the mesmerizing appeal of train rides on YouTube. Enjoy the locomotive 'Drivers Eye View' of the Brienz Rothorn Bahn railway in Switzerland, with rugged mountainsides and snow-covered peaks. 
There is also a live 24/7 traincamera gives you the train driver's view from the comfort of home.
Stroll Through a Museum
Museums around the world are offering virtual tours of their amazing exhibits! Just some examples include the Guggenheim Museum in New York City to the Van Gogh Museum in Amsterdam.
All Things Nature
Fish Tanks and Dementia
Fish tanks engage multiple senses, making them an ideal sensory stimulation tool for individuals with dementia. The vibrant colors of the fish, the play of light on the water, and the gentle swaying of aquatic plants create a visually engaging experience. Watching fish can be enjoyed through a small tank, a virtual tank, or buying an artificial tank for your loved one to enjoy in their space.
Garden Visits
Visiting a garden is a great way to enjoy nature and experience the beauty of spring time. The calming environment of a garden can reduce anxiety and promote socialization for many individuals with dementia. Locations to take garden tours around the Triangle include Duke Gardens, NC Botanical Garden and the JC Raulston Arboretum.
Panda cam
If your loved one adores animals, they will be delighted to view these live panda cams, which show pandas cuddling and playing for hours.
Tropical Butterfly Garden
Take time to enjoy the sounds and wonders of nature through this relaxing video featuring butterflies in a tropical garden here.
NC Zoo Adventures!
Experience the NC Zoo virtually every Wednesday at 10 a.m. for a LIVE and fun educational presentation about animals and nature on their FACEBOOK PAGE. Prerecorded videos are also available on their website.
Happy As a Lark
T
he Minnesota Department of Natural Resources provides over 20 unique
bird songs
that you can listen to without even opening a window. Many of the birds can even be seen in our North Carolina backyards! 
Bird Feeder Cam
This West Texas Bird Feeder Cam allow us to watch dozens of birds enjoying some lunch.
Hang Out With Some Elephants
You're watching the live camat San Diego Zoo. Scroll below the video to be introduced to the herd.
Activities
Hispanic Heritage Month
Celebrate National Hispanic Heritage Month with your loved one by sharing stories about traditional foods, music, celebrations, and even family traditions. Using visual aids such as photographs, music videos, or traditional items such as those found here can trigger memories and spark engagement.
Activities for Long-term Care Facility Visits
Visiting a loved one in a nursing home or assisted living facility can be emotionally challenging, but it's also an opportunity to create moments of joy and connection. Engaging in activities can improve the quality of your visits. Here is an exhaustive list of 101 Ideas for In-Room & 1-to-1 Activity Programs, from the National Certification Council for Activity Professionals.
Homemade Play Dough Activity for Grandparents with Dementia and Grandchildren
Create bonding moments with your grandchildren using Homemade Play Dough. Children and grandparents with dementia can mold, sculpt, and share stories, transforming malleable dough into imaginative masterpieces.
Watermelon Slushie
Watermelon is an excellent hydrating fruit that is refreshing to enjoy on hot summer days. A great way to beat the heat is with easy-to-make treats like this Watermelon Slushie recipe.
Craft Kits – Suncatcher
Did you know you can pick up a simple craft kit from any dollar store to engage with your loved one? Crafts, like painting a suncatcher, are a relaxing activity that anyone, especially kids, can do with seniors who have dementia. Click here for ways to engage with a craft kit.
Fun in the Sun!
Engaging in summer activities can be beneficial for individuals with dementia as it helps stimulate their senses, encourages social interaction. Don't miss out on the joy of summer with these 10 Summer Activities for Seniors with Dementia.
Orientation Board
Dementia can cause people to lose their sense of time and place. Orientation aids can help them feel less confused. Here is a video of an Orientation board you could create with your loved one, so they can have gentle clues to help them throughout the day.
Daily Virtual Engagement
Did you know Dementia Action Alliance offers free live Virtual Engagement Programs Monday-Friday from 2 – 3 p.m. for individuals living with dementia? To view the monthly engagement calendar and how to sign up click here.
Homemade Pizza
Making pizza is a creative way to help your loved one feel included and productive in the kitchen. Check out this recipe for making Homemade Pizza the dementia-friendly way!
10 Fun No-Fail Activities
Finding activities to help your loved one with dementia feel productive and engaged can be a challenge.  Daily Caring compiled a list of 10 Fun, No-Fail Activities for People with Dementia that are free or low in cost.
NC Reading Service
Reading the newspaper or a magazine is a part of many people's daily routine, but this becomes a hard task for individuals with dementia, as they lose cognitive functions such as the ability to read. The NC Reading Service is a resource that offers daily live broadcasts of newspapers and magazines for people with cognitive and vision impairments. Click here to learn how to access this free service.
Coffee Cup Bird Feeder
Making a Coffee Cup Bird Feeder is a way care partners can engage their loved ones and get closer to nature. In the winter, the bird feeder can attract local birds to your yard and your loved one will enjoy birdwatching from a window.
Memory & Orientation books
Memory & Orientation books contain photos and mementos that can help individuals with dementia recall memories, facilitate connection with caregivers, and help remind them about their daily schedule. Click here to view how you can make your loved one their own Memory & Orientation book.
Sensory Boxes and Spaces
Sensory Stimulation is a simple and useful tool for caregivers to connect with individuals living with dementia at any stage. Everyday items and activities can be used to awaken the senses of touch, smell, hearing, and sight and produce a positive feeling. View this article for 10 Ways to Use Sensory Boxes & Multisensory Spaces.
School Days Reminiscing Activity
Its back-to-school season for many kids. Reminiscing about school is a fun and social activity that children and caregivers can play with individuals with dementia to help them share stories about their past. Click here to view the activity.
Online Memory Cafe
Did you know that not only can you attend Memory Cafes in person, but you can join a Memory Café online too? Café Connect is a great resource to find weekly Memory Cafes you and your loved one with dementia can engage in without leaving your home. Click here to view the weekly schedule.
Late-Stage Dementia Activities
Stay connected and engaged with your loved one in the later stages of dementia by Including meaningful activities into their daily routine. Click here to view 5 activities for late-stage dementia.
Adapting to their Abilities
Helping your loved one with dementia still enjoy old hobbies or routines can be implemented in creative ways. Check out this 2-minute video on Adapting to their Abilities from the blog Being in the Moment.
Library Memory Kits
Wake County Public ibraries are providing free Memory Care Kits. The kit includes books and activities designed to spark memories, initiate conversation, and provide positive interaction between caregiver and individual with memory loss. A Wake County library card is required to reserve one of the kits; but some of the digital resources in the online guide are accessible to all and may be available at your local library!
Creative Caregiving
The National Center for Creative Aging created a free Creative Caregiving Guide with short videos lessons in painting, poetry, music, storytelling, and dance exercises. View this fun "Sing like a Bird" activity here.
Nutrition and Dementia
March is National Nutrition Awareness Month, and for individuals with dementia nutrition is important for optimizing cognitive health. View this article from Brain & Life featuring Cooking Tips and Simple Recipes for Alzheimer's Patients.
TV & Dementia
Now watching TV can be a positive and enjoyable experience for individuals living with dementia with new streaming services like Zinnia TV. Zinnia TV provides pleasant stress-free videos for people living with mid- to late-stage memory loss or dementia. Learn more about Zinnia TV here.