Caregiver Connections: An Educational Webinar Series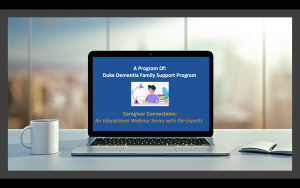 ---
We are partnering with experts in the fields of caregiving and dementia from clinical social workers, to occupational therapists, renown published authors and more!
Can't attend the live event? Don't worry, all Caregiver Connections webinars are recorded and links to presentations will be available on our website, along with any mentioned handouts and information on upcoming events.
Click on any of the categories below to explore more!
---
The Genetics of Dementia and Genetic Testing
Air Date: September 2023
Speaker: Dr. Daniel Parker, MD, Duke Geriatrician
Dr. Parker presented on the genetics of dementia, why family history matters, types of genetic testing, and living with the results of genetic testing.
Dr. Parker is a geriatrician, memory disorders specialist, and physician at Duke. Dr. Parker diagnoses and manages cognitive impairment at the inter-professional Duke Memory Disorders Clinic. His research interests center on understanding how diet and exercise improve brain health and reduce the risk of developing dementia.
---
Understanding Dementia
Life in the Middle Stage: Exploring What to Expect in the Middle Stages of Memory and Thinking Changes
Speaker: Cornelia Poer, MSW, LCSWW
Air Date: June 2023
It can be difficult to identify when you're in the middle stages of dementia caregiving. Tune into this presentation to get answers to important questions like:
How do you know when the person living with dementia has gotten to the middle stage?
What do you need to keep in mind as symptoms change and new symptoms develop?
What is the impact of these changes on the role of care partners?
What are some considerations for addressing today's needs and planning for the future?
Cornelia, recently joined the Duke Dementia Family Support Program. Cornelia has a rich professional history including working with families and individuals living with changes in memory and thinking at the Duke Geriatric Evaluation and Treatment Clinic. For over thirty years, she has offered families education, support, and strategies for dealing with caregiver stress.
Video Presentation
---
Current and Emerging Treatments for Mild Cognitive Impairment (MCI) and Dementia
Speaker: Dr. Daniel Parker, geriatrician at Duke Health
Air Date: February 2023
This presentation addressed usage and limitations of current FDA-approved symptomatic treatments and newly approved anti-amyloid therapies (Lecanemab/ Leqembi) for MCI and dementia. Dr. Parker described the difference between "symptomatic" and "disease modifying" treatments.
---
Beginning at the End: Portraits of Dementia 
Speaker: Joe Wallace, Journalist and Portrait Photographer
Air Date: October 2022 
The goal of this traveling photography exhibit is to destigmatize those living with dementia and to showcase the life and individuality that remains, regardless of the diagnosis. To use empathy as a means for connection and understanding. To tell a more complex and complete story of those living with the disease and its affect on their loved ones. 
---
Bridging the Dementia Communication Gap: Tools & Strategies
Speaker: Maura English Silverman, MS, CCC/SLP
Air Date: September 2022
Dementia symptoms vary, but it is common to experience changes in language. Maybe you've seen your loved one struggle with recalling or spelling words or reading comprehension, and wondered how you can help them. This webinar focuses on learning how to improve language comprehension and expression and maintain dignity in communication. 
---
Nutrition and Dementia
Speaker: Dr. Serena Wong, DO, Duke Geriatric Provider
Air Date: March 2022
Dr. Serena Wong talks about nutrition and how it impacts brain health, dementia and caregiving. This educational webinar focuses on how our diets help of hurt our brains, the MIND diet, mealtime strategies for dementia family caregivers, keeping a loved one well hydrated, and nutrition in advanced dementia.
---
Dementia 101
Speaker: Dr. Daniel Parker, MD, Duke Geriatrician
Air Date: January 2022
This educational webinar focuses on the differences between mild cognitive impairment and dementia, the possible causes, how each diagnosis is made and what treatment options are available.
---
How is Dementia Diagnosed?
Speaker: Dr. Andrea Bozoki, MD at UNC Hospital
Air Date: September 2021
As families begin to notice changes in memory and thinking in a loved one, they may wonder about dementia and how they can have their family member assessed. This important presentation explores the steps by which a diagnosis is made.
---
Making the Difficult Decisions in Dementia Care Presented by Beth Spencer, MA, LMSW
This presentation will address the myriad of challenging decisions that occur across the trajectory of the disease. Topics to be covered will include driving, managing money, paying bills, handling medications, safety alone and moving.
Beth Spencer, a geriatric social worker with masters' degrees in social work, educational gerontology and English, has worked in the field of aging for 50 years, specializing in caregiving and dementia care.
She is co-author with Laurie White of several books, including two family caregiver guides: Coping with Behavior Change in Dementia and Moving a Relative and Other Transitions in Dementia Care.
Their website is dementiacarebooks.com. Beth has worked as director of a dementia day program, as social worker in a cognitive disorders diagnostic clinic, in private practice, as a counselor and as a consultant to residential care programs. She has taught at three Michigan universities but is now mostly retired. 
Part 1: June 2020
     At the Crossroads Hartford Foundation
Part 2: June 2020
     When Is My Relative With Dementia No Longer Safe Alone?
     What If I had Dementia? Planning for the Future
---
Care Strategies
Family Dynamics and Negotiating Difficult Behavioral Symptoms
Speaker: Linda Mockler, LMSW, M.Ed 
Air Date: April 2023
This presentation described family roles, explored the impact of caregiving, identified how dementia can affect family dynamics and shared strategies for better communication and working as a team.. 
Linda is a licensed senior social worker at the Alzheimer's Foundation of America (AFA). Linda has worked in the field of aging for the past decade and is committed to all aspects of this work.
---
Through the Caregiver Journey: Finding Purpose in the Pain
Speaker: Dr. Jenna Renfroe, PhD, ABPP with Tailored Brain Health 
Air Date: August 2022 
Dr. Jenna Renfroe offers insight on how to identify, process, accept and move forward through difficult emotions brought on by the caregiving journey. 
Dr. Jenna Renfroe is a board certified clinical neuropsychologist and founder and CEO of Tailored Brain Health. She has specialized training in providing support for caregiver stress, changes in memory, and stress and anxiety due to life changes. She received her doctoral training at the University of Florida in Clinical and Health Psychology with a specialization in Clinical Neuropsychology.
---
Things to Consider When Your Loved One with Dementia is Hospitalized
Speaker: Dr. Shelley McDonald, DO, PhD at Duke Geriatrics
Air Date: June 2022
In this presentation, Dr. McDonald focusses on ways to stay safe during a hospitalization, how to maintain cognitive function and how to optimize the hospital experience for someone living with dementia. She also talks about delirium, what it is, how to identify it and how to reduce your risk.
---
Mindfulness Based Stress Reduction
Speaker: Liisa Ogburn, Owner of Aging Advisors of NC
Air Date:  April 2022
Liisa Ogburn discusses Mindfulness Based Stress Reduction. Mindfulness Based Stress Reduction (MBSR) is taught in over 770 hospitals and health centers around the country because physicians know there is some suffering for which they have no solution. Chronic pain, caregiver stress, anxiety, depression–the research shows that with daily practice in a particular way, while one can't change the circumstances of their lives, they can change the way they relate to them. In this program, Liisa defines what mindfulness is, provide a quick overview of research related to caregiver stress (and aging), lead you in a focused attention meditation, and share resources to help you develop a mindfulness practice.
Liisa Ogburn, an elder consultant with her own firm (https://agingadvisorsnc.com/), has completed Level 1 of the MBSR Teacher Training at Brown University.
Aging Well at White Memorial Presbyterian Church
---
Innovative Tools and Strategies to Reduce Stress Experienced by People Living with Dementia
Speaker: Melissa Harris, PhD, RN, Duke School of Nursing
Air Date: December 2021
People living with dementia often experience and respond to stress differently than people without dementia. Unmanaged stress can result in challenging symptoms like agitation, anxiety, and poor sleep for the person diagnosed, which can also impact the well-being of the caregiver and their ability to provide care. This presentation details several tools and strategies that can be used in the home to help manage stress experienced by a loved one with dementia.
Recommended Handout with the Necessary Links
---
Stories from the Trenches: Practical Advice for Families Caring for Aging Loved Ones
Speaker: Liisa Ogburn, Owner of Aging Advisors of NC
Air Date: November 2021
A well respected elder consultant with years of experience in the field shares her knowledge around successful caregiving strategies. Hear about options for care, local resources and navigating challenging caregiving decisions.
---
Communication & Dementia
Speaker: Cornelia Poer, MSW, LCSW, Social Worker at the Duke Geriatric & Evaluation Treatment Clinic
Air Date: December 2020
December's Caregiver Connections reviews communication issues important to dementia family caregivers.
---
Driving and Dementia
Speaker: Melissa Werz, OTD, OTDR/L
Air Date: August 2020
August's Caregiver Connections discusses issues that are important to dementia family caregivers around dementia and driving.
Alzheimer's Association Driving Information and Contract
The Hartford: At the Crossroads
---
"What are we doing today…and how can we do it well?"
Air Date: June 2020
The speakers will discuss common challenges in everyday living, particularly in the context of COVID-19, and explore strategies to help those routines and activities unfold a bit easier. Content will be geared towards those living with moderate stage dementia.
Speakers are from the Division of Occupational Science and Occupational Therapy, UNC-Chapel Hill: Jennifer L. Womack, PhD OTR/L FAOTA & Ryan Lavalley, PhD, OTR/L, Post Doc
---
Medicaid
Medicaid's Five-Year Look-Back Rule
Speaker: Jonathan Williams from Clarity Legal
Air Date: October 2021
Are you planning on applying a loved one for nursing home Medicaid? Then you won't want to miss this month's Caregiver Connections as local attorney, Jonathan Williams, explains the elusive Five-Year Look-Back period, what it is, when it starts, how to avoid penalties and how to plan for it.
---
Medicaid: Assistance with Long Term Services and Supports
Speaker: Tracy Gregory, Wake County Long-Term Care Medicaid Supervisor
Air Date: September 2020
September's Caregiver Connections webinar will focus on covering the complex and ever-evolving system that is Medicaid.
Access the Online Long Term Care (Skilled Nursing) Medicaid Application
---
Long-Term Care Options
Understanding Long Term Services & Supports in the Healthcare Continuum
Speaker: Lisa Hoskins, MSW, LCSW
Air Date: May 2023 
This presentation provides a comprehensive understanding of what long-term care options are available for older adults. This includes both in-home and facility-based services and how services are funded. Information may be particularly helpful as one is starting to plan for their later years and when navigating resources in the aging network.
Lisa is a Licensed Clinical Social Worker (LCSW) is the caregiver support program manager at the Center for Volunteer Caregiving in Cary. Her career focus has been working in healthcare and aging settings serving those in hospice care and the ALS community. She works with both patients and family caregivers and is a strong advocate for self-care, respite services, and living the best life one can.
Additional Resources
NC Adult Care Home List (Assisted Living Facilities)        NC Family Care Home List      NC Adult Day Program List 
NC Skilled Nursing Community List
---
Asking the Experts: Family Caregiver Panel Shares Their Experience with Long-Term Care Communities
Air Date: March 2023
The decision for a family member to move to a long-term care community (assisted living, memory care, or skilled nursing) is not easy. Join as three family members (husband, daughter, and sister) share their experiences and answer questions on how they navigate having a family member in a residential care community.
Facility Inspections, Ratings, Penalties and Licensure Actions
---
Long-Term Care Insurance
Air Date: December 2022
This presentation covers a brief overview of long-term care insurance, the key steps to filing a claim, how to navigate a denial, and when to start using coverage and why it's best not to wait. Tune in to learn how to plan ahead!
---
Leaving Home Vs. Staying Home: Understanding Costs and Considerations
Speaker: Liisa Ogburn, Owner of Aging Advisors NC 
Air Date: July 2021
This presentation offers information on making the complex and difficult decision of making a move during the journey of dementia.
---
Paying for Long-Term Care
Speaker: Jonathan Williams, Elder Law Attorney, Clarity Legal Group  
Air Date: March 2021
March's Caregiver Connections discussed issues that are important for dementia family caregivers worrying about paying for long-term care. 
Speaker: Margaret Albert, LCMHC, NCC, Bereavement Counselor with Duke Hospice Bereavement Services
Air Date: June 2021
This program explores the complicated nature of loss and grief for care partners and caregivers of those who have dementia. By developing an understanding of ambiguous loss and its influence on relationships and coping, attendees will be able to identify strategies they may use to live with the uncertainty of dementia and find meaning in their experience of loss.
---
Legal Matters
Helping a Loved One with Declining Capacity: A discussion with attorney Jonathan Williams
Air Date: January 2023
Jonathan Williams from Clarity Legal discusses topics about when a loved one needs your help but resists it, when a loved one is making poor decisions that are harming their health or financial well-being, what legal tools are available and when they can be used, and which tools are available outside of legals documents and courts.
---
Legal Tools for the Family Caregiver
Speaker: Dori Dixon, Elder Law Attorney at Southpoint Estate Planning
Air Date: November 2022
This presentation will cover planning for incapacity and explain the need and benefit of various legal documents, such as health care powers of attorney and living wills, financial powers of attorney, and caregiver agreements. The speaker will also review Medicaid eligibility, including spousal protections. 
---
Guardianship in Dementia: Perspective from a Professional Guardianship Provider
Speaker: Meike Wiest, MSW, CMC at Arosa
Air Date: May 2021
May's Caregiver Connections focussed on the important topic of guardianship. While not the preferred option for families, it's important to know what it is, how to prepare and what your options are.
---
Legal Issues for Family Caregivers During a Pandemic
Air Date: July 2020
July's Caregiver Connections discusses issues that are important for dementia family caregivers at any time. During the pandemic legal documents become more essential as caregivers are asking themselves, "What will happen to my loved one if I get sick?" This webinar will include an overview of health care planning, planning for incapacity, wills and trusts and powers of attorney.
---
Life At Home
Graying with Grace
Speaker: Scott Grant, Certified Senior Advisor and Founder of Graying with Grace
Air date: May 2022
Have you considered how technology might assist you in your role as caregiver? This webinar will introduce care partners to a variety of products to make caregiving easier. Products discussed will include those that can help with medication management, fall detection, wandering, and more.
Dementia Caregiver Resources from Graying with Grace
---
Changes to Intimacy & Sexuality with Dementia
Speaker: Alyssa Szymanski Botte, MDiv, MA, LCMHC, NCC 
Air Date: February 2021
The shifts in intimacy and sexuality that frequently accompany dementia are not often discussed with friends, family members, support group peers, or even health care providers. Our February speaker will address the changes related to sexuality that couples may face when a partner is living with dementia.
---
Home Safety & Dementia
Speaker: Marie Dagger, Occupational Therapist
Air Date: January 2021
January's Caregiver Connections reviewed home safety issues important to dementia family caregivers.
Galberth Health– is a therapist-owned healthcare company that serves the geriatric population with an emphasis on those with cognitive impairments.
Certified Aging-in-Place Specialists– home modifications for aging-in-place. 
---
Caregiving During the Holidays
Speaker: Dr. Cheryl Greenberg, Ed. D
Air Date: November 2020
Already feeling overwhelmed with caregiving tasks, caregivers may view the holidays as more of a drain of energy than a joy.
---
Managing Caregiver Stress Presented by Bryan Godfrey, MA, MSW, LCSW
Air Date: May 2020
Caring for a family member living with dementia may be difficult in the best of times. The added anxiety and responsibilities of Covid-19 likely feel exhausting and overwhelming.
Managing Caregiver Stress PowerPoint Presentation
Managing Caregiver Stress Video Presentation
---
End of Life
The Death and Dying Process of Persons Living with Dementia
Air Date: August 2023
Speaker: Jennifer Gentry, DNP, ANP-BC, GNP, ACHPN, FPCN
This presentation aimed to prepare family caregivers for what they might expect as their loved one with dementia is in end-stage dementia. No journey is the same, but this presentation will highlight some of the common experiences.
Dr. Gentry is a nurse practitioner with the Duke University Palliative Care Consult Service. She is passionate about caring for patients with serious illnesses and their families. Prior to her current role, she provided medical care for frail, older adults in acute, community and skilled nursing facility settings.
---
Hospice 101 with Duke HomeCare & Hospice
Speakers: Christie Smith and Katerina Leyzerovich, Social Workers with Duke HomeCare & Hospice
Air Date: April 2021
April's Caregiver Connections will focus on the important topic of hospice, what it is, how to start services, how it can be helpful, eligibility and more.
Have questions? Feel free to contact us at 919-660-7510