Caregiver Connections: An Educational Webinar Series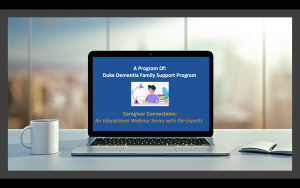 ---
We are proud to offer a new virtual program to address some of the challenges dementia family caregivers may face any day, but which may be amplified by staying at home during the pandemic. We are partnering with experts in the fields of caregiving and dementia from clinical social workers, to occupational therapists, renown published authors and more!
Can't attend the live event? Don't worry, all Caregiver Connections webinars are recorded and links to presentations will be available on our website, along with any mentioned handouts and information on upcoming events.
---
Driving and Dementia
Wednesday, August 19th from 1-2PM
Presenter: Melissa Wertz, OTD, OTR/L
August's Caregiver Connections discusses issues that are important to dementia family caregivers around dementia and driving. Topics to be covered during this presentation include:
• Clinical driving evaluations • Transportation options • How dementia impacts driving safety • Having the conversation • Warning signs of unsafe driving
Melissa Wertz has been an occupational therapist at Duke Health since 2013. She specializes in working with adults with neurological conditions and performing driving evaluations at both Duke Neurology at Morreene Road and Lennox Baker.
She choose an occupational therapy profession because it allows her to use her knowledge, creativity and a holistic approach to figure out which activities are most important to her patients. Her work allows her to assist patients in regaining skills and in providing the support necessary for safety and function.
Want to share the event flyer? Click here.
Click on this link to access the Zoom presentation the day of the event OR call in by dialing 1-929-205-6099 Meeting ID: 851 9096 6454 Password: 3513
---
Legal Issues for Family Caregivers During a Pandemic
July's Caregiver Connections discusses issues that are important for dementia family caregivers at any time. During the pandemic legal documents become more essential as caregivers are asking themselves, "What will happen to my loved one if I get sick?" This webinar will include an overview of health care planning, planning for incapacity, wills and trusts and powers of attorney.
---
Making the Difficult Decisions in Dementia Care Presented by Beth Spencer, MA, LMSW
This presentation will address the myriad of challenging decisions that occur across the trajectory of the disease. Topics to be covered will include driving, managing money, paying bills, handling medications, safety alone and moving.
Beth Spencer, a geriatric social worker with masters' degrees in social work, educational gerontology and English, has worked in the field of aging for 50 years, specializing in caregiving and dementia care.
She is co-author with Laurie White of several books, including two family caregiver guides: Coping with Behavior Change in Dementia and Moving a Relative and Other Transitions in Dementia Care.
Their website is dementiacarebooks.com. Beth has worked as director of a dementia day program, as social worker in a cognitive disorders diagnostic clinic, in private practice, as a counselor and as a consultant to residential care programs. She has taught at three Michigan universities but is now mostly retired. 
Part 1, Monday, June 15th, 1PM
     At the Crossroads Hartford Foundation
Part 2, Monday, June 22nd, 1PM
     Why Is My Relative With Dementia No Longer Safe Alone?
     What If I had Dementia? Planning for the Future
---
"What are we doing today…and how can we do it well
?
"
The speakers will discuss common challenges in everyday living, particularly in the context of COVID-19, and explore strategies to help those routines and activities unfold a bit easier. Content will be geared towards those living with moderate stage dementia.
Speakers are from the Division of Occupational Science and Occupational Therapy, UNC-Chapel Hill:                     Jennifer L. Womack, PhD OTR/L FAOTA & Ryan Lavalley, PhD, OTR/L, Post Doc
---
Managing Caregiver Stress Presented by Bryan Godfrey, MA, MSW, LCSW
Caring for a family member living with dementia may be difficult in the best of times. The added anxiety and responsibilities of Covid-19 likely feel exhausting and overwhelming. View the webinar to help regain some calm and learn about:
What is caregiver stress? How does stress affect the body?

What is self-care? What gets in the way? How can it work for me?

Practice a mindfulness exercise with Bryan.
Managing Caregiver Stress PowerPoint Presentation
Managing Caregiver Stress Video Presentation
Have questions? Feel free to contact us at 919-660-7510