Caregiver Connections: An Educational Webinar Series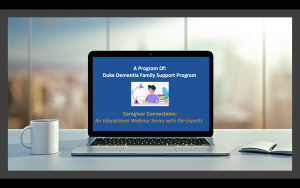 ---
We are proud to offer a new virtual program to address some of the challenges dementia family caregivers may face any day, but which may be amplified by staying at home during the pandemic. We are partnering with experts in the fields of caregiving and dementia from clinical social workers, to occupational therapists, renown published authors and more!
Our first two programs will be led by colleagues at UNC with expertise in geriatrics, caregiving and dementia. Be sure to check back for information on upcoming webinars or to tune in for previous sessions. 
---
Making the Difficult Decisions in Dementia Care Presented by Beth Spencer, MA, LMSW?
This presentation will address the myriad of challenging decisions that occur across the trajectory of the disease. Topics to be covered will include driving, managing money, paying bills, handling medications, safety alone and moving.
Beth Spencer, a geriatric social worker with masters' degrees in social work, educational gerontology and English, has worked in the field of aging for 50 years, specializing in caregiving and dementia care.
She is co-author with Laurie White of several books, including two family caregiver guides: Coping with Behavior Change in Dementia and Moving a Relative and Other Transitions in Dementia Care.
Their website is dementiacarebooks.com. Beth has worked as director of a dementia day program, as social worker in a cognitive disorders diagnostic clinic, in private practice, as a counselor and as a consultant to residential care programs. She has taught at three Michigan universities but is now mostly retired. 
Part 1, Monday, June 15th, 1PM
     At the Crossroads Hartford Foundation
Part 2, Monday, June 22nd, 1PM
     Why Is My Relative With Dementia No Longer Safe Alone?
     What If I had Dementia? Planning for the Future
---
"What are we doing today…and how can we do it well
?
"
The speakers will discuss common challenges in everyday living, particularly in the context of COVID-19, and explore strategies to help those routines and activities unfold a bit easier. Content will be geared towards those living with moderate stage dementia.
Speakers are from the Division of Occupational Science and Occupational Therapy, UNC-Chapel Hill:                     Jennifer L. Womack, PhD OTR/L FAOTA & Ryan Lavalley, PhD, OTR/L, Post Doc
---
Managing Caregiver Stress Presented by Bryan Godfrey, MA, MSW, LCSW
Caring for a family member living with dementia may be difficult in the best of times. The added anxiety and responsibilities of Covid-19 likely feel exhausting and overwhelming. View the webinar to help regain some calm and learn about:
What is caregiver stress? How does stress affect the body?

What is self-care? What gets in the way? How can it work for me?

Practice a mindfulness exercise with Bryan.
Managing Caregiver Stress PowerPoint Presentation
Managing Caregiver Stress Video Presentation
Have questions? Feel free to contact us at 919-660-7510