Suggested Reading
Updated March 2023
Publications
Companion Cards
Companion cards are a simple and effective way for care partners to let people know their loved one has dementia and may have language difficulties or exhibit unexpected behaviors. Use these cards in public – hand to waitstaff, store employees, law enforcement officers, etc. – to avoid frustration and preserve your family member's dignity.

Click
here
if you would like to download and print your own business-size cards on paper or cardstock.
---
Suggested Websites and Resources
Aging
Alzheimer's Disease & Dementia
800-272-3900 The Alzheimer's Association 24/7 Helpline provides reliable information and support to people with memory loss, caregivers, health care professionals and the public. Consultations are provided by master's level clinicians; and translation services featuring over 140 languages and dialects are available.
Project CARE Project C.A.R.E. (Caregiver Alternatives to Running on Empty) is a state funded program that helps North Carolina caregivers who are caring for someone with dementia in their homes by providing services, resources and information through an expert family consultant.
Alzheimer's Association The Alzheimer's Association provides education and support for all those affected by AD and related dementias. Go to the website to find resources and your local chapter.
MedicAlert + Safe Return MedicAlert® + Alzheimer's Association Safe Return® is a 24-hour nationwide emergency response service for individuals with AD or a related dementia who wander or have a medical emergency.
ALZConnected ALZConnected is an online community for AD support. Post questions, share opinions and join discussion groups.
Community Resource Finder The Alzheimer's Association Community Resource Finder is an online guide for people living with AD and their care partners to help with selecting dementia providers, programs and services.
Just diagnosed A diagnosis of Alzheimer's disease is life-changing. You can take an empowering first step by learning more about the changes you may experience, and what to do next to move forward with your life.
 Bob DeMarco has one of the best sources of shared experiential wisdom from families who care for and about persons with AD. "The Alzheimer's Reading Room" blog is no longer live, but DeMarco's YouTube videos remain popular and helpful.
Caring.com The "Alzheimer's Solution Center" (under "Health A-Z" > "Alzheimer's disease"), provides links to learning more about different aspects of AD, including guides to care separated out by disease stage.
By Us For Us "By Us For Us" guides are created By persons with dementia and/or care partners, For persons with dementia and/or care partners.
Alzheimer's Disease Education and Referral Center or 800-438-4380 The ADEAR Center is a resource for information on AD, on locating AD research centers and clinical trials, and for credible, free and current National Institute on Aging publications on AD, caregiving, and other aging-related challenges.
TimeSlips TimeSlips is an improvisational storytelling method for
people with dementia and their caregivers to read, write and share stories with family and friends.
Young Dementia UK this resource focuses on younger-onset dementia, families, friends and supporters in the U.K., but is applicable to those in the U.S.
Early-Onset Alzheimer's Resources The National Institute on Aging provides an expanded online resource list for individuals and families with questions about younger- or early-onset dementias.
National Center for Complementary and Integrative Health Here are five things to know about current research on complementary health approaches for cognitive function, dementia, and Alzheimer's disease.
Making Sense of Alzheimer's The Penn Memory Center's Ethics and Policy Program in Philadelphia offers windows into how people think about and live with AD. There are written, audio, and video clips from people living with the disease.
Non-Alzheimer's Dementias & Mild Cognitive Impairment
Caregiving
Planning, Insurance, Hospice & Long Term Care
Research Participation Options
Our Staff's Favorite Books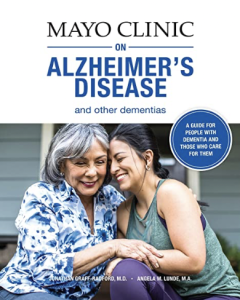 Mayo Clinic on Alzheimer's disease and Other Dementias 
Jonathan Graff-Radford, M.D., Angela M. Lunde, M.A.
This book from the world-renowned Mayo Clinic offers an update on what experts know about Alzheimer's and related dementias, including the latest research into treatment and prevention, ways to live well with dementia, and recommendations for caregivers.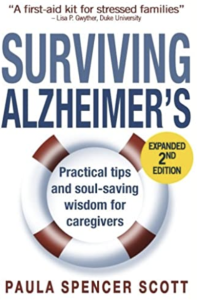 Surviving Alzheimer's: Practical Tips and Soul-Saving Wisdom for Caregivers
Paula Spencer Scott, 2018.
"Surviving Alzheimer's, summarizes the life-changing insight and practical solutions in a way that's fast and accessible–because few have a lot of time and energy. Alzheimer's and other dementias don't just strike a person's brain; they strike his or her whole support network."  
Coping with Behavior Change in Dementia: A Family Caregiver's Guide
Laurie White, Beth Spencer, 2015.

"This handbook is intended to help families understand possible causes of common behavior changes and learn to respond more effectively to behaviors."
Before I Forget: Love, Hope, Help, and Acceptance in Our Fight Against Alzheimer's
B. Smith, 2016.
"B. and her husband, Dan, working with Vanity Fair contributing editor Michael Shnayerson, unstintingly share their unfolding story. Crafted in short chapters that interweave their narrative with practical and helpful advice, readers learn about dealing with Alzheimer's day-to-day challenges: the family realities and tensions, ways of coping, coming research that may tip the scale, as well as lessons learned along the way. "
A Bittersweet Season: Caring for Our Aging Parents-and Ourselves
Jane Gross, 2012.
"When Jane Gross found herself suddenly thrust into a caretaker role for her eighty-five year-old mother, she was forced to face challenges that she had never imagined. As she and her younger brother struggled to move her mother into an assisted living facility, deal with seemingly never-ending costs, and adapt to the demands on her time and psyche, she learned valuable and important lessons. Here, the longtime New York Times expert on the subject of elderly care and the founder of the New Old Age blog shares her frustrating, heartbreaking, enlightening, and ultimately redemptive journey, providing us along the way with valuable information that she wishes she had known earlier."
Laurie White, Beth Spencer, 2019.
"This comprehensive guide is intended to support families from the beginning to the end of the caregiving journey. This includes decisions about safety, bringing in home care, preparing for hospitalization and end of life, talking with a relative about giving up driving, moving from out of state and more. A large section of the book is devoted to moving decisions and logistics, incorporating the content of the original book as well as new information."
Nancy L. Mace, 2021.
"Through six editions, The 36-Hour Day has been an essential resource for families who love and care for people with Alzheimer disease. Whether a person has Alzheimer disease or another form of dementia, he or she will face a host of problems. The 36-Hour Day will help family members and caregivers address these challenges and simultaneously cope with their own emotions and needs."
For more help with your questions about memory problems, contact:
Duke Dementia Family Support Program
919-660-7510